I had the opportunity to review the website HelpTeaching.com recently. I was given full access to the site with the membership to Pro Plan. This website is a platform for teachers and homeschoolers to access many lessons and tests. It has material for students from kindergarten through 12th grade. There are tests, worksheets, full lessons and a game generator.
One of my favorite areas on this site was the Test Maker. You can make a test for your children using three different options. One option is to create an original test using your own questions. The second option is to use the website's library of questions to create a test. The third option is to key in the subject you want to test and allow the website to make it for you. I preferred using the test maker to create my own tests with my own questions. As you create your own questions, you are given the option of how to present the question (i.e., multiple choice or fill in the blank). You can change the order of the questions. I found this Test Maker to be especially easy to use. You can store all of your tests under the My Content section. I also like option two. I created a test all about dance using some of the questions from their library of questions. With more than 500,000 questions, there is something for every subject.
There is also a section for tests and worksheets that are already made. I explored this section by having my children do all of the worksheets associated with chapter books that they had read in the last year. My kids took about ten of the literature tests. They found the tests pleasantly easy (their words) and enjoyed the format. I did find a few typos in the tests plus one answer that was wrong in the answer key. Other than that, the tests were a good review for my children and were easy to print out and take with us when we knew we were going to be sitting in a doctor's office for several hours.
We also did several of the grammar lessons. I told them to start at the 5th grade lessons and work their way up to 8th grade lessons. They were able to do the lessons independently. I appreciated that they were able to work through the lessons and learn the material without any intervention from me. This is not our usual format of learning, but sometimes I must address other issues. It was nice that they did not miss out on their schooling because I was busy elsewhere. Many of the lessons use Khan Academy videos, which my kids really enjoyed. Below is an example of a language arts lesson.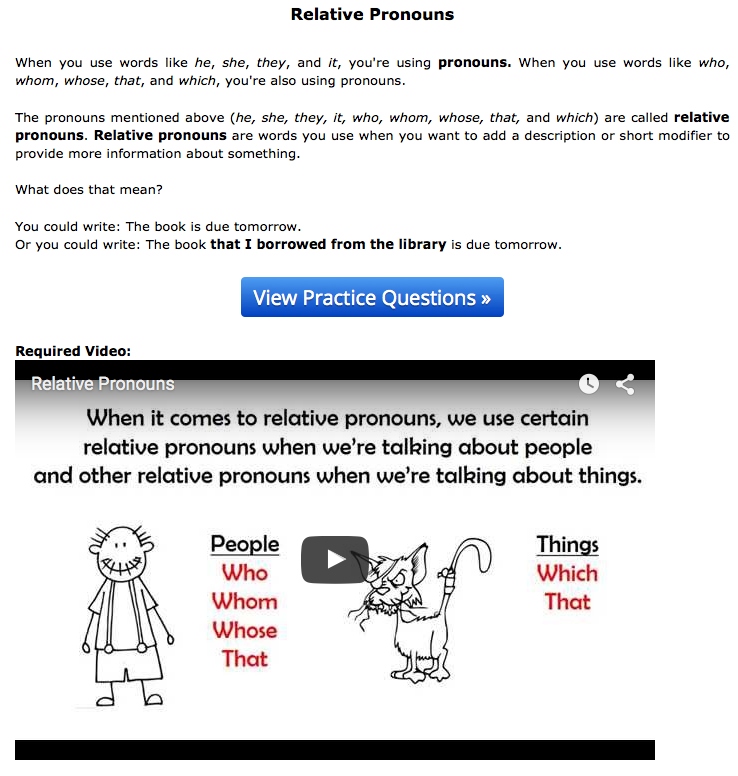 Lastly, we enjoyed the game generator. We made several games to print out and enjoy. The kids liked having their spelling/vocabulary words put into word searches and Bingo. I also made up some dance Bingo cards for my daughter to use with a dance friend when she has her visit for an overnight. With the Bingo game, you put in the words you want and it mixes the words up on multiple cards. You can determine how many cards you want. Overall, I found the games to be fun and add to the kids' educational experience. There is a host of resources on this site. Go check it out!

Blessings, Dawn