I am so excited to be reviewing this new
Bible study
, New Testament Overview Part 1, from
Grapevine Studies
. My son and daughter are using
New Testament 1: Level 3 Birth of John to Jesus' Ministry.
We have not used Grapevine Studies before and we were sold from the start. My kids are having so much fun with this study. They really like drawing all of the stick figures as we work our way through Jesus' life. One of the things that really appeals to my children with this program is that they do not need to have great drawing skills. The drawing requirements are as simple as being able to draw shapes, stick figures, and easy symbols, such as simple eyes. Most people will have the required supply list already in their homes. You need a Bible, the Teacher Guide, Worksheets, dry erase markers, colored pencils, and a Bible dictionary. The worksheets and teacher guide are easily downloaded and printed out from the website or could be purchased as a physical book. I received the downloadable product.
I really like the Grapevine teaching method. They treat the Bible as if it were a puzzle. They teach the framework first through timelines and then fill in the framework with characters, events and Bible passages. You may use any version of the Bible that you wish. First, together we read the assigned passages from the Bible. Then my children illustrate these passages on the worksheets provided by Grapevine Studies. The Teacher Text suggests that the characters be color coded. I think this is brilliant. When the kids draw stick figures of Jesus, they use a purple pencil; when they draw Mary, they use red; John the Baptist is brown, etc. The whole process of drawing the passages helps them to really feel a part of the passages and really understand the material. Each lesson is followed by a list of review questions that helps to reinforce what they have learned and helps the teacher know if they have truly digested the material presented.
Grapevine lessons are very easy to fit into one's schedule. It takes about one hour a week to complete a lesson. Of course, my kids liked it so much that they wanted to do multiple lessons a week. The suggested daily schedule is as follows:
Day 1 Timeline Review Page
Day 2 Lesson page 1
Day 3 Lesson page 2
Day 4 Student Drawing Page
My kids preferred to do an entire lesson in one sitting. I am never one to stop the love of learning, so that is the way we did each lesson.
There are so many choices of Bible unit studies through Grapevine Studies. The chart below helps determine where to begin.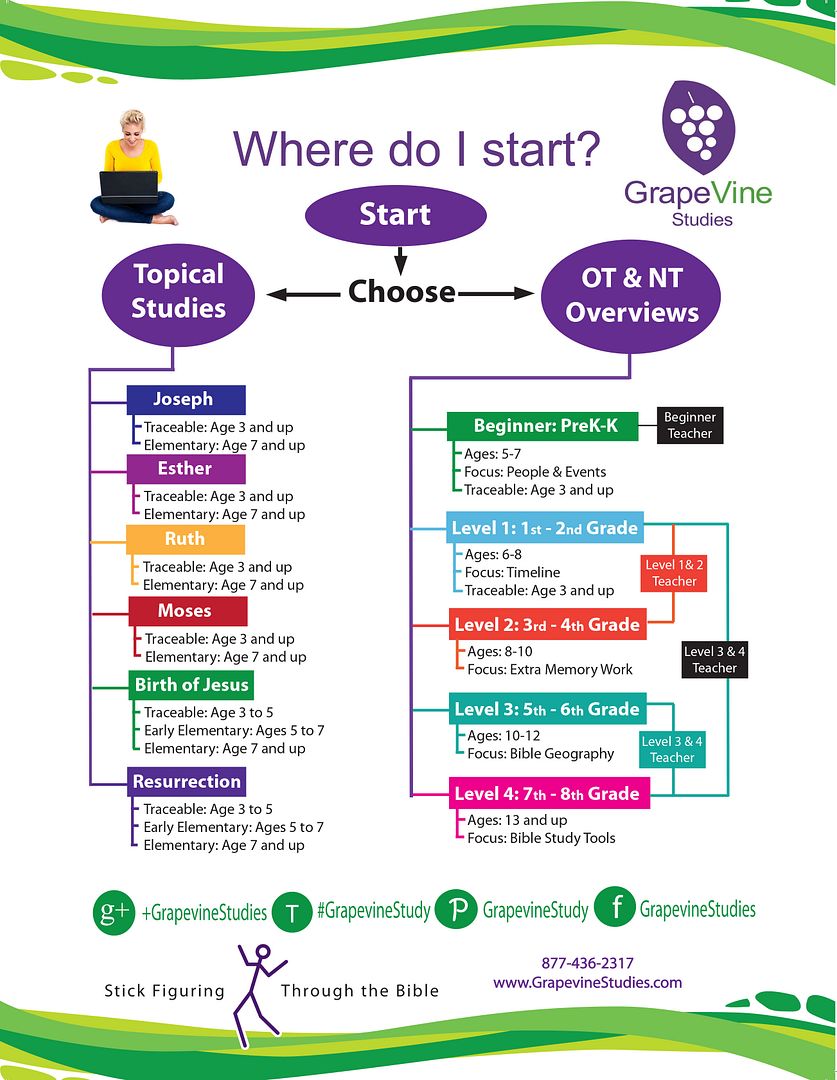 Our family just loves this unit study. We will be using more products by Grapevine in the future. My son and daughter like all aspects of the program. Anne (12) says, "My favorite thing about Grapevine is that I get to draw stick figures. They are really easy and fun." Dean (13) says, "The drawing part makes the stories more interesting."
Click on the banner below to figure out what my fellow crew members thought of this program.

Blessings, Dawn