My son has really struggled with writing over the years, so I am excited to review
Writers in Residence
from
Apologia Educational Ministries
. This is an exciting new program that is geared toward 4th through 8th graders. The program is designed and written by Debra Bell. I received Writers in Residence Volume 1- Apprentice. This is a writing-focused language arts program that is intended to take 32 weeks if the student works through the lessons four days a week.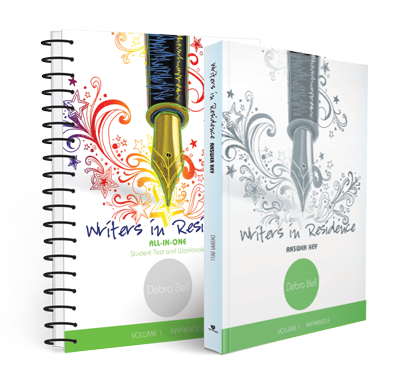 Volume 1 has six units that include the following writing assignments:
When I Was Young
Very Truly Yours
My Family Hall of Fame
My Favorite Author
The History of Me
Zap! Pow! Kazam!
Each unit falls under one of four types of writing. Students are asked to write about an experience that they remember, a creative writing project that they imagine, a project that teaches them to research, or a writing project that teaches them how to think about a subject and write it from their own point of view (argument writing). I like that this program is designed to prepare students for the type of writing they will most likely do as adults.
I chose to use this program with my 13 year old son. He has cerebral palsy and a few learning challenges. I am very pleased that this program is self guided and helps my son to be more independent. He really struggles with working on his own. He finds the program easy to follow and likes the workbook style. He likes all of the checklists that are throughout the lessons and the suggested daily schedule that helps keep him on task.
Writers in Residence comes with two books, the answer key and the student text. I am pleased that the program is contained in an all-in-one student text so that my son can keep all of his writing work together. There are even lined pages provided in the text for taking notes, writing drafts and completing the final writing assignment for each lesson. I like how engaging the program is for the student. The pages are colorful and the entire text is written to the student (once again promoting independence). Each lesson easily guides the student through the writing process.
In addition to guiding students through the writing assignment, there are wonderful mini lessons within each lesson on grammar and capitalization. For example, in Module 2 there is a section explaining common and proper nouns and the importance of capitalizing personal names. The student is then given the opportunity to practice editing a page that needs the proper nouns capitalized.
Lastly, the student textbook has six Christian authors highlighted. An author is presented at the beginning of each unit by form of an interview. The interviews are a fun way to learn more about some great authors and for students to receive inspiration to work hard to become good writers themselves. I like the way the author spotlight section helps the student to have a mentor and feel supported through the writing process.
Our Final Thoughts in a Nutshell ~ My son and I are pleased with this program. I plan to use it with my 12 year old daughter next year. My son likes that the entire program is in a book. He feels that the lessons are short enough to get through in the required time and finds the directions easy to follow. Although much of the grammar is a review for him, it does not feel "preachy but more like a reference" (his words). He likes the variety between writing, grammar pages, and reading material. He feels that most programs he has used in the past were all writing all the time. It is a relief that this program is not that way.
Check out what my fellow crew members have to say by clicking on the banner below.

Blessings, Dawn