My children like doing art, so I jumped at the chance to review
Sculpture Technique Model
from
ARTistic Pursuits, Inc.
.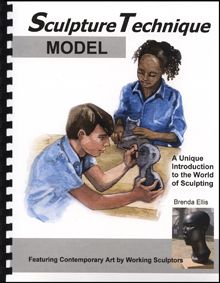 I am delighted to be able to review
Sculpture Technique Model
. This spiral book follows the book,
Sculpture Technique Construct
, but can also be used as a stand alone program. It is intended for upper elementary through high school. I used it with my 12 and 14 year old children. The book is divided into three units. Each unit focuses on a different modeling medium. The students will learn about creating mass with putty, creating scale with clay and creating surface with wool. Once the student completes the 12 projects in the book, they will have a good understanding of sculpture. The book retails for $47.95.
How We Used It ~ We completed the first two projects in Unit 1 creating mass with putty. I had never used Durham's Rock Hard Putty before. I found it at our local hardware store. It is very cheap and I got a small can. We used the entire can for two kids. I probably should have bought the 4 pound can since they wanted to create more. It is a powder to which you add water; the consistency can be controlled by how much water is added. The children created small animals with the the first project. Anne made a fish and turtle. Dean made a shark. They found the step-by-step instructions with pictures easy to follow. After I introduced what mass was and showed them the sculpture in the book, they were able to work independently. The first project needed to be done in stages several days apart to give time for the pieces to dry before painting. I was pleasantly surprised to see how much my son enjoyed this medium, considering his sensory issues. He worked with the putty for a long time before forming it into a shark.
They found the second project to be much more difficult. In this project they worked with a static mass. They created a form out of newspaper and masking tape and then covered it with thin layers of putty. They "painted" the putty onto the structure and then allowed it to dry overnight. Dean made a squirrel and Anne made a rainbow tadpole and a snake. Dear husband painted the tadpole. He liked getting in on the painting. Overall, they liked how detailed the lessons were. However, Dean really did not care too much for sculpture work because of his sensory issues.
My Impressions ~ I really like how each project is set up. Each unit is filled with colored pictures and the step-by-step instructions are very easy to follow. The entire study is broken down into very manageable lessons. A weekly lesson plan and schedule is provided in the back of the book. I like that each unit begins with a short lesson, vocabulary and an art piece to study. The evaluations at the end of each unit is a helpful tool for the parent/teacher to see how much understanding the child accomplished. There is also an answer sheet for the evaluations in the back of the book. I feel that this program is a complete unit that could count for a partial high school credit. I would certainly recommend this curriculum for middle school or high school.
Click on the banner below to see what other crew members said about this awesome company.

Blessings, Dawn