My children love art and were very excited to review
Kwik Stix 12 pk
from
The Pencil Grip, Inc.
. I love that there was no mess to clean up. We also received a bonus
Pencil Grip
.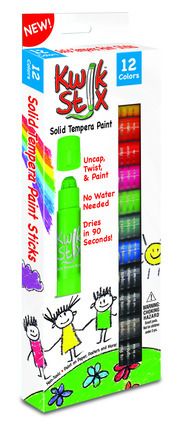 What is it? Kwik Stix 12 pk is a really cool new product. They have created tempera paint in no mess sticks like a marking pen that a child can hold on to and paint. There are no brushes, cups of water, blotting pads -- just easy to use markers loaded with quick dry tempera paint. The paint is a solid stick inside a plastic casing. How ingenious is that? The paint easily moves up the tube by twisting it, so there is no need to touch the paint. It dries in 90 seconds or faster.
How we used it ~ Our Kwik Stix 12 pk came with a little fact sheet. We were informed that the paint could go on many different mediums, such as wood, canvas, paper, and poster board. I decided to take the challenge and try it on multiple mediums.
My 12 year old daughter tried it on normal drawing paper. She made a lollipop tree (I used paper to cover her name). She found that the paint came out of the stick easily and smoothly. It dried almost instantly.
Both of my kids tried it on thick poster board. They both agreed that Kwik Stix was applied and had the appearance of crayons more than the feel of paint. It took them a bit of adjustment to get the application to have more of an appearance of paint.
My son tried the Kwik Stix temperas on canvas. He made this guitar with the Kwik Stix. (He used a pen for the fine details such as the strings). He found the application to the canvas to be very smooth, and it was easy to control where he wanted the paint to end up. He has mild cerebral palsy and found this product easy to use.
Lastly, they tried it on wood. One of them decorated our flower press. As you can see in the picture she struggled to write a word with the paint. However, it applied very nicely to the wood and dried instantly.
The pros in a nutshell ~
No mess
Very easy to use
Great for kids with sensory issues who don't want dirty hands
Great for little ones
Comes in lots of lovely colors
One can easily cover one color with another color
Can be applied to multiple mediums and stays on without a fixer
Dries very quickly
The cons in a nutshell ~
Very hard to do detail work because the paint comes out in a wide base from the stick.
Cannot mix colors
May not seem like paint to a regular painter
My children and I had fun with this product. They did think it wouldn't be useful for detailed work. However, they are already planning on using them for their yard sale signs this summer. They are the perfect size for making gigantic signs. I also plan on using them when I babysit little ones. What a great new art product.
Check out what other TOS crew members had to say about this fun new product by clicking the banner below.


Blessings, Dawn