We had the opportunity to review a brand new game that will be available for purchase in just a few days. It is called Sunya - The Magic and Wonder of Math and Science Multiplying & Dividing by Sunya Publishing. This is a brand new company that is just getting started. They have two exciting math games, one for students mastering addition and subtraction facts and another for students mastering multiplication and division facts.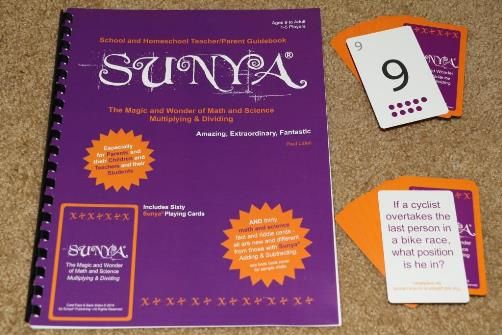 My kids just love games. We play them almost every night. We were very excited to receive this game. Sunya - The Magic and Wonder of Math and Science Multiplying & Dividing comes with a 25 page instruction manual, number line and two decks of cards. There are 60 cards between the two sets. The instruction manual is spiral bound and has black and white pages. Sunya is a word from the ancient language of Sanskrit which is used in India. Sunya means empty or void of quantity.
Riddle Cards
One set of cards is of science and math riddles. My kids love riddles and immediately started testing them out on everyone in the family. They soon were solving the riddles by conducting experiments. One riddle said, "Six glasses are in a row. The first three are full of water; the second three are empty. By moving only one glass can you arrange them so empty and full glasses alternate?" They had six glasses set up on the table in no time. I won't tell you how to solve it. Anne said, "These riddles have some funny answers." Dean said, "I had only heard two of these before." He knows lots of math facts and riddles so that is saying something.
Game Cards
The game can be played in several variations. I am not sure we ever played the game just right. The directions were a bit overwhelming and confusing. However, we understood the basic concept. We picked a dealer and the kids began attempting one by one to make math sentences. They enjoyed building on top of each other's sentences and getting rid of their cards. You win the game when you run out of cards. When a person is going out of play he/she yells, "Sunya". If they do not and are caught, they forfeit the win. This is a great way to get kids to practice math skills without realizing that they are doing math. There is also Sunya Solitaire if you want to play alone.
The instruction manual also holds lots of nuggets of knowledge. It has a glossary of math terms, parts of a number sentence, famous math quotes, math "magic" and more amazing facts and riddles. My kids loved the math magic game. This is really a variety of games in one package.
This would make a great summer set of games to keep math facts fresh in a child's mind. The company also is coming out with Sunya - The Magic and Wonder of Math and Science Addition & Subtraction. Please go check out all of the great reviews by other TOS review crew members by clicking on the banner below.

Blessings, Dawn