For the last several weeks, we've been learning all about Joseph Haydn using
Music Appreciation: Book 1 for the Elementary Grades
from
Zeezok Publishing LLC
. I was ecstatic when we were picked to review this program. I have used products from Zeezok Publishing LLC before and we love their music programs. This new program is even better than what I have used from them in the past.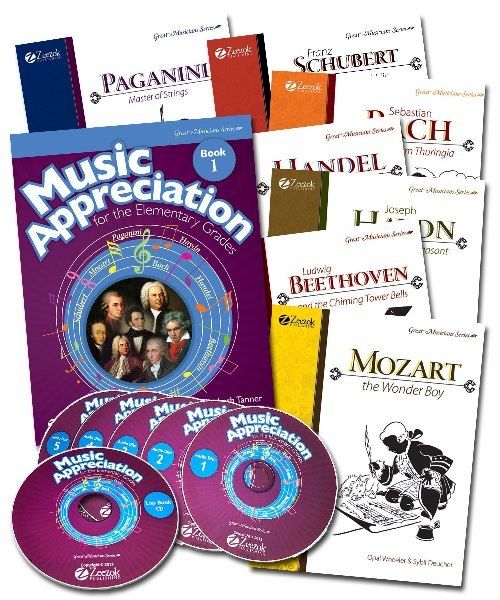 Are you looking for a complete and well rounded music appreciation program that taps into multiple learning styles? Well, this may be the program for you. This is perfect for all elementary grades and is engaging enough to be appropriate for the middle school years as well (especially special needs). It approaches learning from a visual, auditory and kinetic styles. Each composer is intended to take about four weeks to complete. That means that you have seven months worth of music appreciation in this one program. This comes complete with the following:
The Student Activity Book
Music discs
All seven composer books ~ Bach, Handel, Haydn, Mozart, Beethoven, Paganini, and Schubert
A lapbook CD
Wow, there is so much to this program! My daughter (12) started with the composer, Joseph Haydn. She loved that the biography about him was in large print and easy to read. She found the book engaging and broken down into easy chunks to accomplish each week. After reading the assigned chapters, she worked on the activity pages for that section of reading. The student activity book is filled with bright and cheerful pages. At the beginning of each week is a weekly lesson outline. I love check lists, and this outline made it easy to keep track of where she was and helped her stay organized as well. The activities include "tidbits of interest", comprehension questions, character qualities, what tracks of music to listen to on the CDs, and instructions for the lapbook. There is also an excellent scope and sequence in the front of the book.
My daughter likes
lapbooking
and found the
lapbooks
in the Haydn lesson easy to assemble. She liked how colorful they were and was able to complete the activities on her own. I liked that the mini books had good instructions on how to cut them out and assemble them. She was able to place the mini books into her
lapbook
in her own layout.
She also liked the music tracks. She found them short and many of them familiar. We have listened to a fair amount of classical music over the years, and she appreciated that some of Haydn's more popular musical pieces were showcased. Because the pieces of music are short excerpts, it is easy for a young child to really concentrate and learn to appreciate the music. I also found that the selected music was enjoyable enough to inspire the child to listen to even more Haydn. That is the entire point of exposing children to the classics, is it not? To develop a love of the classics is a strong desire in our household.
My daughter especially loved that there were hands-on activities in the unit on Haydn. She loved the recipe for Kugelhopf. It looked and tasted lovely! I always appreciate when recipes that are included in unit studies actually work. We enjoyed the kinetic learning options throughout the book.
I highly recommend this curriculum. We love it and my daughter can't wait to do the rest of the composers with her music studies next year.
Check out what the other TOS review crew members have to say about this wonderful program. Just click the banner below.


Blessings, Dawn