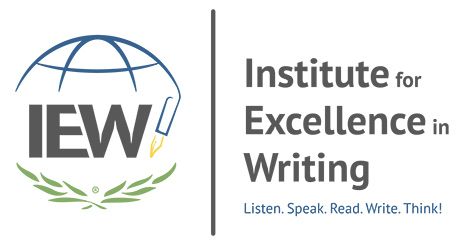 I am new to Institute for Excellence in Writing, so I was very excited to be able to review Linguistic Development through Poetry Memorization. I had heard great things about it and I wasn't disappointed.
What Is It? ~ This is a really exciting program that helps children and adults memorize over 100 poems and speeches. Memorization is quickly becoming a lost art, but it is so helpful to the learning process. The poems are in a variety of lengths from very short to a substantial length. The poems are divided into four levels. Everyone begins on level one. There is also a level five which is famous speeches. The students have a book with all of the poems in it and an audio CD in which to listen to the poems. Students memorize the poems one at a time until they accomplish them and then go to the next. Each day the students recite the poems they have memorized before going on to the next poem that they are working on. The program comes complete with a DVD called Nurturing Competent Communicators, teacher manual, student workbooks (in a PDF file) and 5 CD's. Institute for Excellence in Writing allows the parent to photocopy the student materials for their own personal use. You can also opt to purchase a hard copy student work book separately.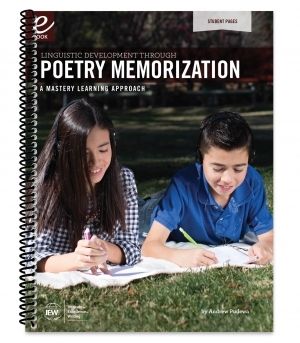 How We Use It ~
We listen to the CD in the car and listen to it on many car rides. The kids (12 and 14) also read the first few poems over and over. The early poems in level one are fairly short, and they quickly picked up the first two. Then they went on and learned one after another. My son currently knows five poems after just a few weeks (three or four times a week).
What the Kids Think ~ My daughter is picking them up with ease. She finds it much easier than she thought. I have not pushed her to learn the poems daily, because she has been busy memorizing her part in the Jungle Book that she will be performing very soon. My son also likes the program. I was concerned that he would think the early poems were junior and too silly (he is a very serious child), but he found them fun. He is relieved that they are short and not overwhelming.
What I Think ~ I am so pleased with this program. I am from a generation where memorization was rarely found in school. I must admit that I have feared memorization my whole life. I was under the impression that I wasn't good at it and did not want my children to fear it. I found a lot of comfort and encouragement in the teacher's manual. It points out that memorization is something we do all of our lives without even thinking about it. Also, the manual explained that poetry is often easy to memorize, because it is enjoyable, tells a short story of sorts, and has rich vocabulary. A double plus in my book is that my kids are learning great poetry and learning more sophisticated vocabulary. I am finding the poems easy to pick. I love that the program is stretching my kids' minds. I suspect that we will be working through this book for a few years. There is so much rich material, and I would love for my kids to put as much of it to memory as possible.
I highly recommend this wonderful program. It is one of the best things I have reviewed so far this year. Check out what the other crew members have to say by clicking on the banner below.

Blessings, Dawn