We have been reviewing
Introductory Science
from
Science Shepherd
for the last few weeks. We received access to online videos of the course as well, as a hard copy of the workbook and answer key. You have a choice of Level A (ages 6 to 8) or Level B (ages 9 to 11) for the workbook and answer key. The workbooks are consumable and meant for one student only. Introductory Science is intended for ages 6 to 11 year old students.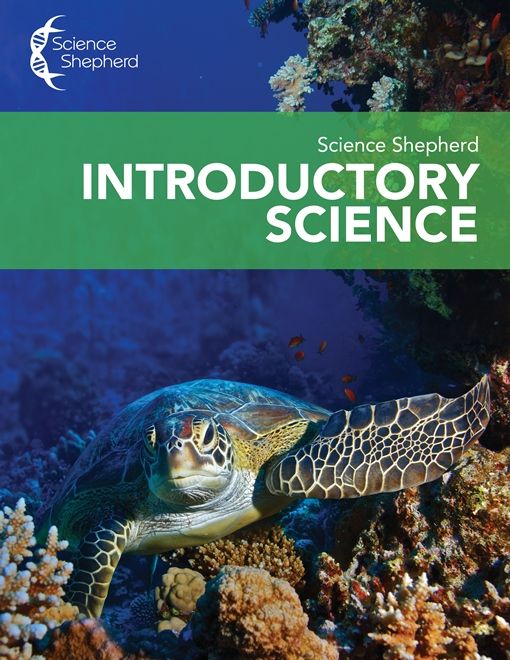 What It Is ~ This is a creation-based science curriculum. Each video lesson is very short -- less than five minutes long. The videos are of a man talking while pictures appear on the screen behind him. After each video lesson, the child answers the question in the workbook. There are experiments that are very simple and use household items throughout the course.
How We Used It ~ My 12 year old daughter was the reviewer of this program. She watched the first six weeks worth of videos in one week. The videos are very short and to the point, so she was able to move through them quickly. After the first six weeks of videos, she felt that she wasn't learning anything new and requested to change it up a bit. She asked permission to stop watching the videos and instead just complete the workbook as a "test of her knowledge." I agreed, as long as she understood that she would have to resume the videos if she started getting answers wrong. She completed the workbook through week 21 over the next two weeks with near perfect accuracy.
My Daughter's (12) Impressions ~ My daughter really didn't care for this program at all. She found it extremely easy. She felt that the material was so simple that she had covered all of it in kindergarten or first grade. She felt that the workbook multiple choice questions often made the right answer obvious, because the wrong answers were "very silly." She felt that the videos were acceptable and very easy to follow. She liked that they were super short. She didn't do any of the experiments because she had done them all before when she was much younger. However, she said that she remembered them and they were clear experiments that work and teach the point of the lesson.
My Impressions ~ I agree with my daughter. This program is very junior and is appropriate for kindergarten through maybe second grade, at the most. I never really thought of myself as that much of a scientist, but I must admit I had taught all of these concepts to my kids before the age of eight. I thought that the workbook would be a little bit more complicated since I requested Level B (for ages 9 to 11). However, I found the material very easy and presented in a way that led students to the right answer without them having to think about it. I also noticed that some experiments were ones I used when I worked in an academically minded preschool. However, I did appreciate that the experiments are easy to carry out, take hardly any time to execute, require things that most people usually have on hand, and, most important, WORK. The video teacher is clear, easy to follow and to the point. He also keeps the student engaged.
In Conclusion ~ If you are looking for a creation based video curriculum with workbook for very young students, this may be the one for you.
To see what others from the TOS review crew had to say about this curriculum, click on the banner below.

Blessings, Dawn