We are a very art-minded family, so I jumped at the chance to review this program. We received
Entire Level I
from
ArtAchieve
.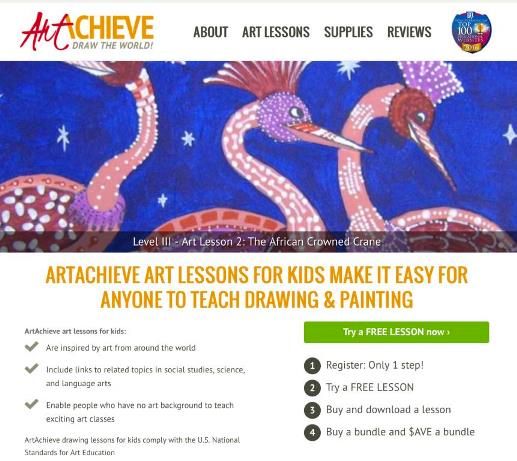 We are not necessarily the best students of drawing around here, but we love art. It is one of our favorite subjects. Over the years, we have tried lots of curriculum with mixed results. My mother is an artist and she has given us monthly lessons for the last few years. I really wanted to make sure that we started getting art in on a weekly basis. ArtAchieve proved to be a perfect fit.
What It Is
~ ArtAchieve is an online subscription that gives you access to the level you purchase for one year. There are currently five levels. We received Entire Level 1 which has 11 lessons. In addition to the 11 lessons are several free lessons that teach shading and line drawing. The free lessons proved to be very helpful as we moved through the level 1 lessons.
ArtAchieve has a warm up at the beginning of each lesson. Students are encouraged to relax, put on soft music, rub their hands together and do a warm-up exercise. The exercise is a copy of the drawing they are going to make -- except it is all chopped up like a puzzle. The student practices drawing the lines that will make up the picture. By drawing lines instead of the entire picture all at once, it helps build confidence.
Then the student is walked slowly through the process of drawing each part of the picture with step-by-step instructions. The student can pick video instruction or PDF instruction. My daughter often used both versions. The lessons are very clear, and the child or adult can easily work at his or her own pace.
PDF version
Video version
Each lesson has a short history or science lesson that goes along with each project. My daughter (12) really liked that the lessons were short and to the point. She really likes things to be to the point.
I was pleased that we already had on hand most of the art supplies. Below is the list of supplies needed.
black Sharpie
washable colored markers
finger paint paper
oil pastels
colored pencils
watercolor pencils
drawing pencils
graphite stick
kneaded eraser
pastel chalks
paper (water color and drawing)
paint (water color, acrylic, glitter)
masking tape
paper blending stump
paint pens
What We Thought ~ We loved this program!!! My daughter and I thought that the results of our projects were better than some we have tried with other programs. I am not at all talented at drawing but really liked the lessons and tried my best. My daughter liked it so much that she even continued doing it after she broke her finger on her writing hand. She did her best to do a lesson with her left hand (non-writing hand). She says she prefers the PDF files to the video. However, she really liked them almost equally. She loved that she had a nice finished product after each lesson.

We occasionally adapted the art supplies to help accommodate my daughter's broken hand. In the picture above, my daughter did not use oil pastels because she was not able to control them with her left hand. She used water color pencils and drawing pencils instead.
This program gets a thumbs up from our family. We enjoyed all of the lessons we did and will complete the remaining few over the summer. Click on the banner below to see what other TOS review crew members had to say or to learn about other levels.

Blessings, Dawn