We recently found ourselves on a 10-plus hour road trip. I was so happy to have a surprise audiobook for the kids. I received for review Beric the Briton from Heirloom Audio Productions. This is an amazing, fully dramatized audio theater production about a young man who is living in ancient Britannia during the Roman invasion. He is kidnapped and sent to Rome to become a gladiator and serve under Emperor Nero. Through his journey, he discovers Christianity and learns about having forgiveness and faith, even if it means facing death. What an exciting story to help beat the boredom of a long car trip!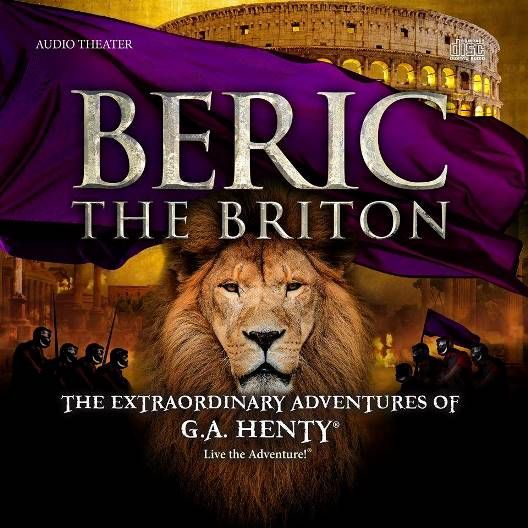 We were instantly sucked back into Ancient Roman times. The kids were engrossed within moments. My special needs son often struggles with audio theater. Sometimes it is very confusing to him. The audio music and special effects often drowns out the storyline for him. However, that was not at all a problem this time. The wonderful actors had strong voices and were very clear and easy to understand. Speaking of the actors, there were so many famous performers in this story. The actors included Brian Blessed, Brian Cox, Tom Baker, Honeysuckle Weeks, Cathy Sara, and John Rhyhs-Davies. What an awesome set of voices for our listening pleasure.
The story was on two CD's in a fold-out case and was 2 1/2 hours long. It was non-stop adventure from start to finish. We also received access to the bonus items on the web. They included Beric the Briton e-book, music soundtrack, study guide, inspirational poster and video. I am going to talk about the study guide. It was 50 pages long! Each set of questions covered about 10 minutes of audio listening. Each section had three parts: Listening Well, Thinking Further and Defining Words. There were also fun activities sprinkled throughout. My kids were looking forward to making some of the baked goods. The Roman Noodle Bake and Roman Apple Cake looked marvelous. There was also an awesome Bible study at the end of the study guide. What a complete learning experience! This study guide could be used by the whole family. The questions were probably geared toward later elementary or middle school.
One of the other bonuses that the whole family found interesting was the behind the scenes documentary. It was neat to see how the actors really got into their roles and acted out the action, even though their voices were the only part that would be used in the audiobook. The documentary was great and showed my children -- who happen to love acting -- another career they could pursue. There was also a wonderful craft section in the bonus area. The kids liked the coins that could be made out of clay.
This wonderful audio theater gets a thumbs up from my clan. This would be a great addition to your homeschool collection. The whole family got into it. They loved it and there wasn't a single complaint in the car while it was playing. I just wish it had been longer (HA HA). To see what other TOS crew members had to say, click on the banner below.

Blessings, Dawn