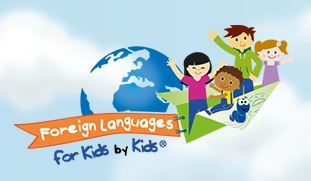 I had an opportunity to review a new and exciting immersion Spanish program from
Foreign Languages for Kids by Kids.
I received
Starter Set 1
. Learning a foreign language is very helpful to children. Did you know a bilingual brain is actually physically larger than a monolingual brain?! The complete set retails for $140.25. This set comes complete with the below items:
A 20 week curriculum guide that is filled with games and activities to help the parent extend the lessons.
A DVD that holds the first three video stories, "Basketballs aren't for Breakfast," "The Little Magic House Part I" and "The Little Magic House Part II".
Three workbooks (one for each video).
Sticker set that goes with the first story, "Basketballs aren't for Breakfast".
Flashcards that go which each story.
A card game called Go Squish is also being given out while supplies last.
This unique program is an immersion program intended for the elementary years. The workbooks are intended for 3rd grade and up, but the videos could be used for even younger children. What makes this program unique is that its approach is based in conversation. Most of us learned our first languages hearing words in context. This program simulates language the way we learned it as very young children. The program has workbooks which help with basic grammar. The pages are bright and fun.
(PICTURE)
How we used this program ~ My son is 14. He has limited exposure to Spanish. He watched the lessons in order several times a week. He looked over the workbooks and did some of the pages. He did not want to play the game but liked some of the extended activities, such as cooking ethnic meals and doing culture research.
What he thought ~ He found the videos a little bit goofy, but easy to understand. He liked the signs of the most important vocabulary words throughout the video. For example, the dog is wearing a shirt with a vocabulary word on it. He thought that the words were repeated enough to be able to follow the story. Also, all of the visuals made the story obvious. He thought that the workbooks were "nicely produced and easy to follow". He found that he quickly started picking up the words and was able to go on to additional lessons.
What I thought ~ This program reminds me of my college immersion beginner Spanish class, although this program is geared toward children and is presented in a very child-friendly way. The everyday activities are very easy for a child to relate to and also enhance their chances of following the story. I have a significant learning disability in foreign language that was discovered in college. Even though I have two years of Spanish and grew up hearing it in my community, my vocabulary is still very limited. Even conversational Spanish is very difficult for me. I found the words to be very clearly stated in the video, and I was able to retain a few more that I had forgotten over the years. I really like the bright and colorful workbooks. They are not overwhelming.
I would recommend this program for elementary school. It is easy and fun. To see other reviews click on the banner below.

Blessings, Dawn