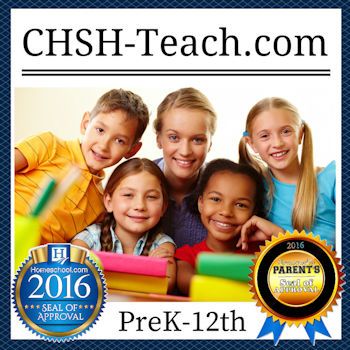 We love all of the resources and complete downloadable programs we found on CHSH Download Club from CHSH-Teach.com. We were very blessed to have the opportunity to review this website. It is an absolutely amazing site, jammed packed with tons of complete programs for grades preK-12. There are hundreds and hundreds of lessons. I am sure everyone could find something or even many things to enhance their homeschools. It is just loaded with possibilities. Being a member of the Christian Home School Hub Download Club means that you can download as many lessons, workbook pages, and unit studies as you want. There are really endless possibilities.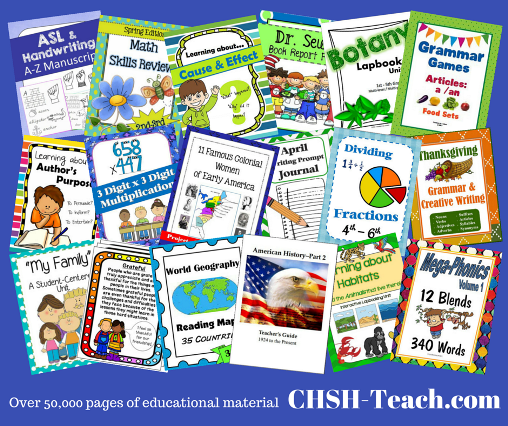 How we are using CHSH ~ Money is super tight this year, so we can't spend as much as I usually do on curriculum. I was really worried about how I was going to get all of the extra things that enhance my children's homeschool. Then I was given this website to review. All my worries went away. I needed more materials for our pieced-together physical science course. The answer was right here with the middle school physical science course. It is a complete course broken down into units. I can copy off just the units I need. The course could be a stand-alone course or used to supplement, as I am doing.
We are also using the beginners piano course. One of our main goals this year is to give our children more autonomy over their own education. This means that sometimes I will need to switch curriculum to meet their needs. After the first few weeks of school, my daughter decided that she wanted to change the curriculum we were using for her music course. I was able to oblige her, because we had access to this great website. Once again, they had just what we needed. She was able to switch courses with no additional cost to me.
We also decided that we didn't have the budget to order some American Sign Language tools that I wanted to give my daughter so that she would not lose the gains she had made in an out-of-the-home sign language class last year. Once again, I found flash cards on Christian Home School Hub. There are not many ASL flash cards, but it was enough to get us started until I will be able to budget for other resources.
I know we will probably be using some of the download units on Shakespeare and creative writing later in the year.
This website is unique, because each subject has a complete curriculum, not just tons of worksheets. I suspect that a homeschool mom or dad could build an entire school year of education for each of their children from this one website alone, if they wished. That is an amazing value for just $25 a year. Of course, there would be the additional cost of printing, but that still would be pennies compared to purchasing traditional curricula.
Lastly, all the units and print outs I looked at were engaging, well written and accurate. That is very important to me. I highly recommend this website. I know I am certainly sold on its usefulness. To see what other reviewers had to say, click on the banner below.

Blessings, Dawn