Have you ever wondered if your child should be learning to diagram sentences? I must admit, I didn't learn how to diagram sentences when I was a student; and I wasn't sure it was a necessary skill. I was intrigued when I was offered the opportunity to review Sentence Diagramming: Beginning from The Critical Thinking Co.
When I received the book, I read the about book page. I was excited to see that this system of organizing sentences was good for the visual learner. Both of my students are visual learners. We live in a very visual age with all of the media our kids watch. Furthermore, I was pleased to learn that it would help the more mathematically minded student succeed with grammar because of the way diagramming is organized. This book is geared toward grades 3-12+. I think it would be good even for adults. The pages are set up with an example of the current lesson, practicing a given sentence, creating your own sentences and correcting diagrammed sentences that have an error.
My daughter is in seventh grade this year, and she has struggled with grammar all of her life. My mother, who absolutely loves grammar and diagramming sentences, was very excited to review this book with my daughter. We both expected it to be a real struggle for her. We were pleasantly surprised that my daughter took to the book quickly. She found the directions in the book very clear. We all appreciated that the lessons progressed slowly enough that the student was able to learn each step in diagramming a sentence broken down into small, simple parts. There are 12 lessons in all. Each lesson has four pages of practice. Lesson 1 begins with simple subjects and a main verb. The last lesson covers compound predicate adjectives and nouns. There are also five review pages. Lastly, there is an answer key in the back of the book, which is very helpful for those of us who have never diagrammed a sentence, ahem!
Although my daughter wasn't very excited about learning how to diagram sentences, she did find it to be an "okay" activity. She also seemed to understand it quickly, which increased her confidence. My daughter likes workbook pages. She experiences a sense of accomplishment when she sees the accumulation of neatly completed pages. She did agree that this was a "good way to learn grammar and get a not so fun task completed" in a timely fashion. She liked the format of the pages. The directions were very clear to her, and she liked that the pages were not overwhelming with lots of extra "pictures and decorations". The only thing on the pages was the lessons. She thought the book was "mature and age appropriate".
We really enjoyed this book from The Critical Thinking Co. We have been very pleased with educational material from this company in the past, and they have done it again with this great workbook. The homeschool review crew received several different books to review. They even received some software to review. So go check out all of the different reviews by clicking on the banner below.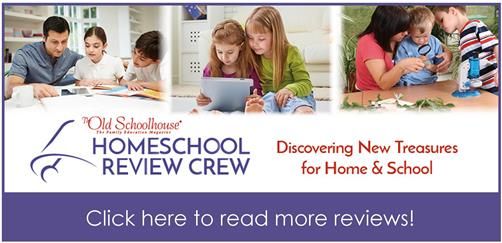 Blessings, Dawn