The Lifetime Membership
from
NotebookingPages.com
is an excellent way to enhance your students' learning. Our philosophy on homeschooling is rooted in the teachings of Charlotte Mason. This has led us down the road of copywork and notebooking. We have used notebooking for years. I was really happy to receive a lifetime membership to NotebookingPages.com as a review item.
We are very familiar with notebooking; but if you are not, there is a wonderful five day easy start guide to get you going. I thought it was filled with great advice and tips for successfully bringing notebooking into your kids' daily lives.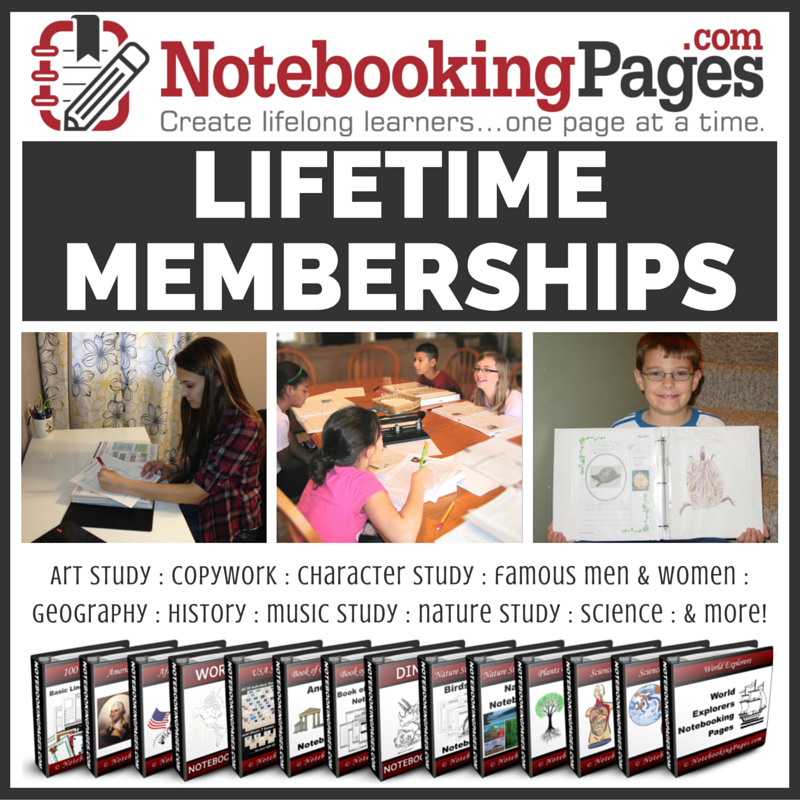 I was amazed when I started exploring the website. There are so many pages. There are many notebooking pages on art study, character study (famous people), geography, history, music, science, holidays, language arts and so much more. There are thousands of pages to copy. I could have used all of the ink in my printer the first day! There are 43 notebooking pages just on trees!!
The website covers appropriate pages for kids from kindergarten (ABC pages) to high school students. So if you click on the tab for science, you are given the choice of anatomy, animals, plants, astronomy, nature study and experiments. Then if you click on anatomy, you are given the choice of circulatory and cardiovascular system, digestive system, endocrine system, integumentary system, lymphatic system, muscular system, nervous system, renal system, respiratory system, senses, and skeletal system. If you then click on the digestive system, you may download 15 excellent notebooking pages. The anatomy pages are wonderful. I love how colorful they are. The pages are all high quality and appropriate for middle or high school. I just can't say enough about the volume of pages offered on this website.
Once you download the section or topic that you want to your computer, you can choose to print all of the pages or just a few of the pages. This way you don't need to waste ink. I also found the table of contents for each section very useful, if you don't want to download a huge amount of things to your computer before you are sure you want to use them.
We printed out the Father's Day notebook pages and the children wrote letters to their father. I appreciated how many choices the children were given. The pages come in preschool paper, wide rule paper, paper with a place for writing and drawing a picture and a blank page with father-themed decorations. My kids picked the page that they wanted to use. They really liked the variety and quality of the pages. Anne really liked the lined pages and the fun clip art on the sides of some of the pages. Dean was glad that some of the pages had a picture window to draw his own art. He likes to draw cartoons.
I also printed out lots of pages for an anatomy study and many of the holiday pages for the holidays in May, June and July. I love encouraging my kids to write, and this is the perfect way to give them a HUGE variety of high quality notebook pages.
The lifetime membership, which costs $97, could keep your family busy for years to come. You can use it with all of your children from preschool through high school graduation. That is a deal! Click on the banner below to see what other members had to say about this awesome product.

Blessings, Dawn