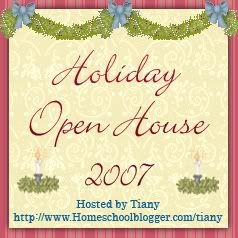 I love Christmas and it is important to me that it be kept simple and free from commercialism as much as possible. We enjoy the simple pleasures, such as riding around looking at Christmas lights and making lots of cookies! We like to make a cake to eat on Christmas day to celebrate Jesus' birthday. The kids really enjoy this tradition in particular and have already begun making gifts for Jesus. They love to set up our nativity and pore over the Christmas books and videos when they come out of storage. All of these are wonderful, but what we truly want to impart to our children is the love of giving to others.
We want our children to concentrate on giving to others and Jesus' teachings, not what will be under the tree for them. Our children receive one gift per child from us and a stocking filled with undergarments, special candy and fancy toothbrushes. They also receive gifts from relatives, but we encourage group gifts whenever possible. Because we have a child who suffers from RAD, Christmas can be a tense time of year. (RAD children tend to sabotage special events because of their attachment problems.) We have worked very hard to make Christmas as simple and old-fashioned as possible. For example, all of the gifts go under the tree unwrapped. The "What you see is what you get!" theory has helped our RAD child get through Christmas much more calmly. As it turns out, the rest of the kids love it, too; and there is no wrapping paper for me to clean up!
Throughout the month of December, we talk a lot about how to serve others with our time, skills and resources. The children pick several charities, and we concentrate on how to help them. One charity we do every year is Operation Christmas Child shoe boxes. To see how we did it this year go
here
.
Another service project that the kids really enjoy is making a creche for baby Jesus. Then when I catch them doing something good for another in the family, they get a ribbon to put in the creche. Throughout the month, the creche gets well cushioned, and on Christmas morning a doll representing Jesus is waiting for them in the creche under the tree. Later in the day, we will count up how many ribbons are in the creche and they will be traded in for money. (Each ribbon will be worth a quarter.) The money that the kids have earned through the month with their good deeds will go to feed a hungry baby. Through Samaritan's Purse Christmas catalog, a baby can be fed for a week for only $9. This catalog has many wonderful and unique ways to help people all over the world. If you are interested in more info, call 1-800-353-5957.
(Our homemade creche for baby Jesus.)
The kids have been saving money for months to purchase an animal through Heifer International. They are hoping to buy a trio of rabbits, but looking at the jar of mostly pennies, I think they have probably only saved enough for a flock of chicks. The cool thing about Heifer International is that the program gives a needy family an animal that helps them establish a sustainable lifestyle. Once the family is sustainable, they pass on the offspring of their animal to another family. In this way your one small donation ends up helping an entire village. To find out more go
here
.
On the local front, our adoption support group is buying Christmas gifts for a foster child, and we will be donating socks to the homeless through our church. We will also be decorating a tree this year for the birds. The kids will string popcorn and make bird seed creations and then hang them on a tree outdoors. The kids will get to experience these things more directly than when I call a 1-800 number to a charity.
We will be schooling through the month, and if you want to see our lesson plans and book list, you can go
here

.
I hope you have a wonderful season filled with wonder and joy!
Blessings,
Dawn