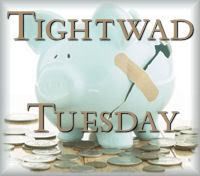 I am very excited about joining my first Tightwad Tuesday hosted by Canadagirl.
Sometimes you get lucky and find something that will make a real difference in your homeschool PLUS save lots of money. This is what happened to me last week. I found five Great Museums of The World art books at a library sale. They were filled with almost 100 prints each. I paid $3.00 for each book. I then took the books and cut out all the prints that were bigger than 4" x 6", appropriate for all ages in my home, and famous by artist or painting. I then glued the prints to old 8x10 card stock that was laying around the house and pasted the name of artist, year, and name of painting to the back of the card stock. The result is that I now have 76 prints for my children to do Charlotte Mason picture studies. I have wanted to buy some prints for a long time now but they are very costly and often small. For the cost of $15 dollars and a few hours of effort I have more prints than I could ever have afforded! Hurray!! There are still many prints left in the books that can be used for other projects in the future.
Since this is Tightwad Tuesday, I would love to ask you all a tightwad question. My younger
ds
turns 6 this month and wants an art themed birthday party. Any ideas on cheap art projects for eight kids who are 3 to 7 years of age? I would love to hear your ideas.
Blessings,

Dawn